Our Founding Partner Shane Rolin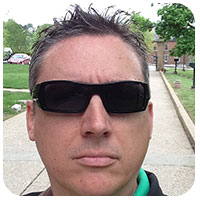 Our Founding Partner Shane Rolin has more than 40 years' experience with computers and technology - including 22 years developing websites.
Starting back in the late 1970's Shane received his first computer, a Texas Instruments TI-99/A. From that point on his imagination was captured and he began the process of learning how to program - when you had to learn on your own. There were very few books and zero classes that would teach programming back in these days so if you wanted to learn how to program - you had to dig in and figure it out yourself.
Shane progressed through many different computers from the TI-99/A to the Atari 800, Atari ST, Atari Stacy, Macintosh LCIII, and finally into the early Windows computers around 1995. A self-taught Microsoft Windows expert, Shane has been using Microsoft Windows operating systems since Windows 3.11 in the early 1990's.
Today Shane uses his expertise to build many of his businesses' computers (excluding most of our servers - which are Dell servers).
Educational Background
Shane is a graduate of Gateway School District in Monroeville, PA. He is a graduate of Robert Morris University with a B.S. in Business Administration. Why Business Administration you ask? A computer job back in the early 1990's was a "Dilbert" like experience working in a cubicle on a monochrome monitor. Not something that Shane was really interested in doing for a career. So he went for Business Administration (Management) and learned how to run businesses.
His First Website
Back in 1996 Shane was a new member of Saddleback Church in Lake Forest, CA. At the time they had a very basic website that was not maintained. Shane emailed the Pastor of the Church - Rick Warren - and offered to work on the website and update it even though he never had any previous experience with website design. Shane's reasoning that the church was located in a very technologically enabled area and if the website is not up-to-par a potential audience may be missing on the church's offerings. Shane worked with a few volunteers and began the process of modernizing and maintaining the first new version of the Saddleback Church website.
Rick Warren's Pastors.com
Shane was contacted in mid-summer 1998 by best-selling author and well known Pastor Rick Warren from Saddleback Church in Lake Forest, CA. He had worked with Pastor Rick a few years earlier on revising and maintaining the Saddleback website. Pastor Rick hired Shane in August 1998 as the Director of Information Technology for "The Encouraging Word" his tape and sermon ministry. At the time the business was 98% phone and mail order. Within 18 months Shane had transformed a business with almost zero internet sales, to a multi-million dollar web store that now was responsible for more than 50% of the sales of the ministry. Shane worked in this capacity until relocating back to Western PA in late 2002.
Launch of Amixa in 2003
Shane started up Amixa in the spring of 2003 as a new business that would provide top-notch website design, database and e-commerce website development and website hosting. We are now in our 16th year of operation.
Teaching at St. Vincent College
Shane was contacted by St. Vincent College in the summer of 2011. They were looking for an instructor to teach a class on website design. Thus began a new branch of Shane's career as a teacher at this prestigious college teaching students from his area of expertise - website design. Shane is now in his 9th year of teaching at St. Vincent College as an adjunct faculty member.