If you have undergone a "Trustkeeper Scan" and failed due to your Microsoft web server using SSLv2, then read on.
NOTE: PLEASE READ THIS POST IN OUR BLOG HERE.  It is TWO YEARS NEWER and simplifies most of the tasks regarding SSL settings.
SSLv2 is considered a "medium" security risk and will cause your scan to FAIL, so therefore to be PCI-DSS compliant (for credit card companies), you need to disable it via the registry on your Windows server running IIS 3 or later.
The easiest way to do this is to read this KB article from Microsoft.
In a nutshell, you need to go to this registry key
HKey_Local_Machine\System\CurrentControlSet\Control\SecurityProviders\SCHANNEL\Protocols
Then locate the SSL 2.0 key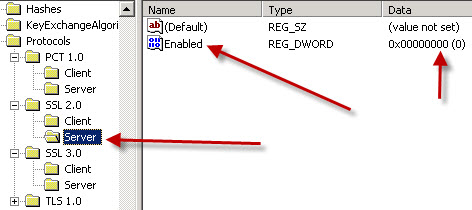 Click on the "Server" node.
On the Edit menu, click Add Value.
In the Data Type list, click DWORD.
In the Value Name box, type Enabled, and then click OK.  Note: If this value is present, just double-click the value to edit its current value.
Type 00000000 in Binary Editor to set the value of the new key equal to "0".
Click OK. Restart the computer
if applicable, reschedule the security scan